Energy is used to be able to do missions and different tasks. The maximum energy is 35, although it can exceed that limit when using ramen. Furthermore, energy regenerates by 1 every three minutes.
Consumption
Edit
Energy consumption varies differently according to missions. However, most simple tasks require only 1 energy.
Adding Energy
Edit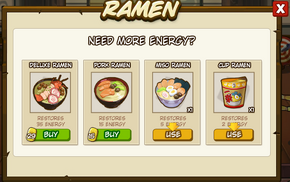 The are various ways in gaining energy, namely:
Consuming ramen.
Leveling up makes the energy full again.
Waiting until energy regenerates.