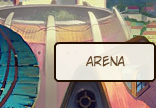 Arena is a place in the town for battle. It is located behind
Skill Dojo
and
Salon
.
First section in Arena. Players battle to uphold their ranks and to get sycee . Certain reward will be given to players in range of certain ranks. Each battle require 2 Vigors.
Power is obtained when a player wins a battle in Arena. Power can be used for exchanging for some reward in News section of Arena. The higher your win streak, the more power you get. No power is deducted when you claim a reward.
Power Reward :
| | |
| --- | --- |
| 500 Powers | 1x Diamond Hammer |
| 1000 Powers | 1x Toad Token |
| 5000 Powers | 1x Desert Moon Scarf |
| 25000 Powers | 1x Paper Wings |
Second section in Arena. Players can check out who are attacked by the them and inspect their opponents. Besides that, players can check out failed and successful defense. For a failed defense, a player can revenge (requires 1 vigor only).
Leaderboard
Edit
Third section in Arena. Functions to check out the current world ranking and inspect players as well as to spar with friends.
Arena Shop
Edit
Exchange sycee for items available in the Arena Shop. Items available for exchange are equipments, upgrade hammers and skill components.
Daily Arena Battle Reward
Edit
As a player win a battle, it is recorded in the reward bar. As the reward bar reach a mystery gift (?), a gift will be given for the player to loot. Maximum of 5 mystery reward will be given to a player. A failed attack will not be counted but a successful revenge is recorded.